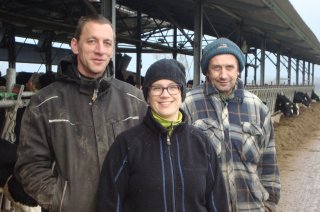 Farms
As partners, Freewalk housing systems (compost bedded pack barns) and cubicle barns are involved in the project, spread over the 7 European partner countries. The freewalk housing system farms are the case farms and an equal number of cubicle farms function as reference farms. A similar characteristic of each set of case and reference farms, except housing system, is looked for. See table below for number of farms.
View of the barn of Boss/Feik/Euler GbR operated by Gunther Boss in Lauterbach-Maar in Germany. In 2014, a composting stall (in centre of picture) was added to the cubicle barn combined with the calves rearing barn (on the right,) to improve animal welfare for the fresh lactating cows, and also a biogas plant (left) was built.
On NPC farms additional measurements take place concerning the nitrogen, phosphorus and carbonate balances on the farm. This concern only composted bedded pack barns, thus case farms. Intensive climate measurements refer to monthly measurements on the farm, while on the regular case and reference farms the basic measurements are taken 6 times during a 20 months period.
Farms with artificial floor are part of the detailed research on two experimental stations (Dairy Campus in the Netherlandsand Logatic in Slovenia), mainly focusing on functioning of the system and welfare aspects.
WP1: Description and organization of case and reference farms - lead partner UL
2 x (15 dairy + 5 suckler cow farms)
WP 2: Inventory and characteristics of waste materials - UniFi
WP 3: Effect of housing system on animal welfare, health and product qualityStudy 1: Animal health, longevity and welfare - SLUStudy 2: Detailed research on animal welfare - WURStudy 3: Antibiotic use - WUStudy 4: Milk quality - JLU
WP 4: Effect of compostedbedding on NPC-balances and soil structure - WUR
WP 5: Socio-economic aspects - TUM
WP 6: Systems approach and economic evaluation - NIBIO
WP 7: Communication and dissemination - UL